Steve Cohen's Chamber Magic
Website: ChamberMagic.com
Steve Cohen's show is a beautifully done parlor show in Midtown with an intimate upscale vibe. He does an amazing job of setting up an elegant ambiance with an aura of old fashion mystique. An interesting fact is that his show is modeled after the french parlor shows performed by the father of Modern Magic, Jean Eugene Robert-Houdin, and even incorporates one of Houdin's most famous effects, Think a Drink, into the finale of his show!
From a Magician's Perspective:
Steve himself is renown for being a prolific magic historian and is known within the magic community as one of the best Magicians out there. I found his show to be solid, filled with magician foolers, and beautifully routined from start to end. If you are a magician or just love magic… this is the number one magic show on my list to see in Manhattan.
Tickets start at $100 and they are worth every penny.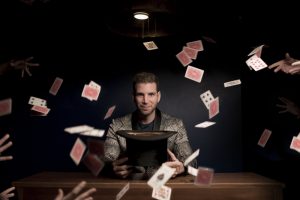 Six Impossible Things
Website: SixImpossibleThingsShow.com
Joshua Jay is known as one of the magic world's most creative minds, its no surprise his magic show in Chinatown is a reflection of that. It kind of has a bit of a sleep no more vibe, as you are lead into multiple rooms with different themes to watch him perform. I like the idea that the room you are in is part of the magic experience, and not just some chairs lined up facing a stage. Overall his presentation is on point, his effects are incredibly impressive, and the ambiance and vibe he creates is just ridiculously cool.
From a Magician's Perspective:
Getting to see Joshua Jay perform … I mean, thats all there really is to say. He probably knows more magic, and has created more effects, than any other magician to ever live. He's a legend.
Tickets start at $106

Speakeasy Magick
Website: MckittrickHotel.com/events/magick/
Todd Robbins' show curates some of the best underground magic talent and brings them to you in Sleep No More's McKittrick hotel. He's a legend in his own right, known for is sideshow related work, and has helped create numerous successful magic shows around the city. Anything Todd does is worth seeing…
From a Magician's Perspective:
While I haven't seen this show, I've seen and know several of the performers… all of which are absolutely phenomenal. Todd, as a performer is incredible himself and I'm impressed with the top notch guys he's been able to pull. Also I've always thought the McKittrick is the perfect venue for magic…
Tickets start at $125